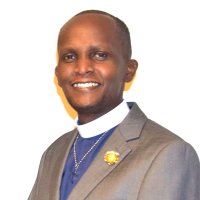 Pastor John Bosco Mwangi
My name is Rev John Bosco Mwangi. I am Kenyan born and America based. I was brought up in Nairobi's Buruburu estate before we moved to Juja in Kiambu county. I have 7 sisters, I am married to one wife Eddah Njambi Mwangi & I have two kids Stacy Mwangi and Anthony Mwangi.

Ministry
I gave my life to Christ in 1989 in Juja just before I joined high school. I was then fellowshipping with Christian church international under Bishop Murandi. After high school, I moved to Ruiru and I joined Prevailing Word church international (then Word of Faith, Ruiru) serving under Bishop Robert Njiru. I attended Word of Faith bible school, majoring in leadership and youth ministry and was appointed to head the youth ministry as the Chairperson. In the year 2000 I was appointed the Youth Pastor and after serving as a Youth Pastor for 2 years I was appointed a full time pastor to assist Bishop Njiru as the Resident pastor.
I moved to Kansas, U.S. in 2005 and joined breakthrough community church where I served under Pastor Daniel Kungu in the early stages of the ministry. I served in the Music ministry and Intercessory ministry. I moved to Washington state (Seattle) in 2008 and joined Kenyan Community International Church (KCIC). I have served here as the Youth chairperson later as the acting Youth Pastor till I was ordained in 2014 at Prevailing Word, Ruiru by Bishop Njiru and later Commissioned as a KCIC pastor in the year 2015by Rev Geoffrey Wanyoike.

It is always satisfying and fulfilling to serve God in any capacity he places me. My passion is especially in the young people and young marriages. God has put a new assignment in my heart to encourage and be a carrier of a message of hope to the sick especially with cancer after God delivered and has continued healing me from cancer.

Blessing to all, Reverend. John Bosco Mwangi
REACH US
Tel: 253-392-2960.
Email: kencomchurchseattle@gmail.com