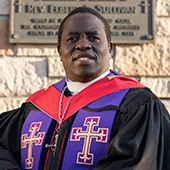 Pastor Geoffrey Kamau Wanyoike
Rev G.K. Wanyoike was born in Kenya, Kiambu County in a small village called Kiratina in Githunguri division.
He received his education at Komothai Primary School & Komothai High School.
He proceeded to Machakos Teachers College, PCEA Pastoral Institute and then received his degree at St. Paul's University, Limuru. He is currently studying for his Masters degree at Seattle Pacific University.
I have worked 5 years as a Teacher and then an Ordained Minister in the PCEA Church a total of 23 years having been ordained by the Presbyterian Church of East Africa at PCEA Church of the Torch in Thogoto. I love to preach and that is my greatest focus in my ministry especially revival or evangelistic preaching. I attach a lot of importance and value to ministry of word and prayer, Praise and worship among others. My Core Values are Honesty, Integrity, Respect & Hard Work.
It is very important in my ministry to add value to a person or an institution like the Church.
I am married to Juliet Wambui and we have two Sons - Samuel and Victor.
God has stationed me to serve at Kenyan Community International Church, Rainer Beach in Seattle since 2012.
I love this Church and the Leadership. There is quite a harmonious & caring working relationship with the members.
We welcome you to visit and join us.
God Bless you.
REACH US
Tel: 253-392-2960.
Email: kencomchurchseattle@gmail.com