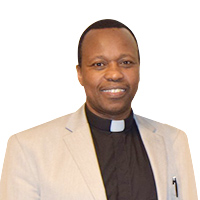 Pastor Joseph Njuguna Kuria
Pastor Njuguna was born in 1960 at Mangu, Kiambu County. He attended Primary school at Juja and then proceeded to St Joseph Githunguri and Nanyuki High School for "O" and "A" Level high school education respectively.
He taught at Gatanga Girls Secondary School for two years and later joined Kenya Vehicle Manufacturers in Thika for apprenticeship training. He was employed there for 15 years as a technician. He resigned to come to the USA in 2011 with his family. Pastor Njuguna is married to Betha and is blessed with two sons.
In 1992, Pastor Njuguna accepted the Lord Jesus as his Personal savior and joined Chrisco Church, Thika. He served in various capacities before being ordained as a church Elder. He also served as District Superintendent for Sunday School Ministry, Church Building and development chairman, House Fellowships overseer and other various church assignments
In year 2003, Pastor Njuguna took a two years leadership training course at Leadership Training Institute, Nairobi and later registered for a four year course in Theological studies at Regions Beyond Ministry, Thika. He graduated in 2009 with a BA majoring in Religious Studies and Leadership with certification from Gulf Coast University, Florida.
Pastor Njuguna and family joined the Kenya Community International Church in 2011 and served in various capacities. As stated in Mathew 5:14, … 'a city on a hill cannot be hidden, the KCIC church soon recognized Pastor Njuguna's Pastoral gift and ordained him as a Pastor in May 2016. He serves all the members and supports the Senior Pastor with pastoral matters.
Pastor Njuguna fully supports the ongoing church activities. He looks forward and is most excited about discipleship, teaching and training sessions for new converts and new members joining KCIC.
REACH US
Tel: 253-392-2960.
Email: kencomchurchseattle@gmail.com